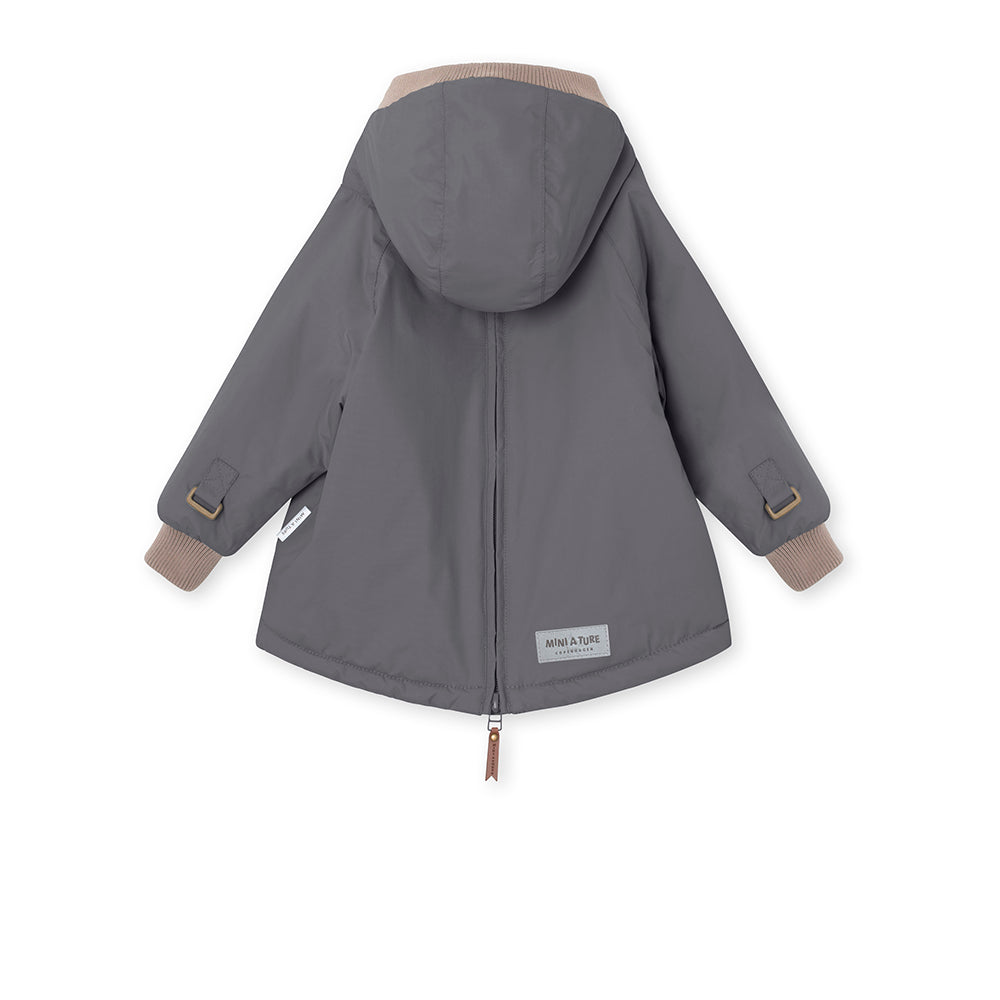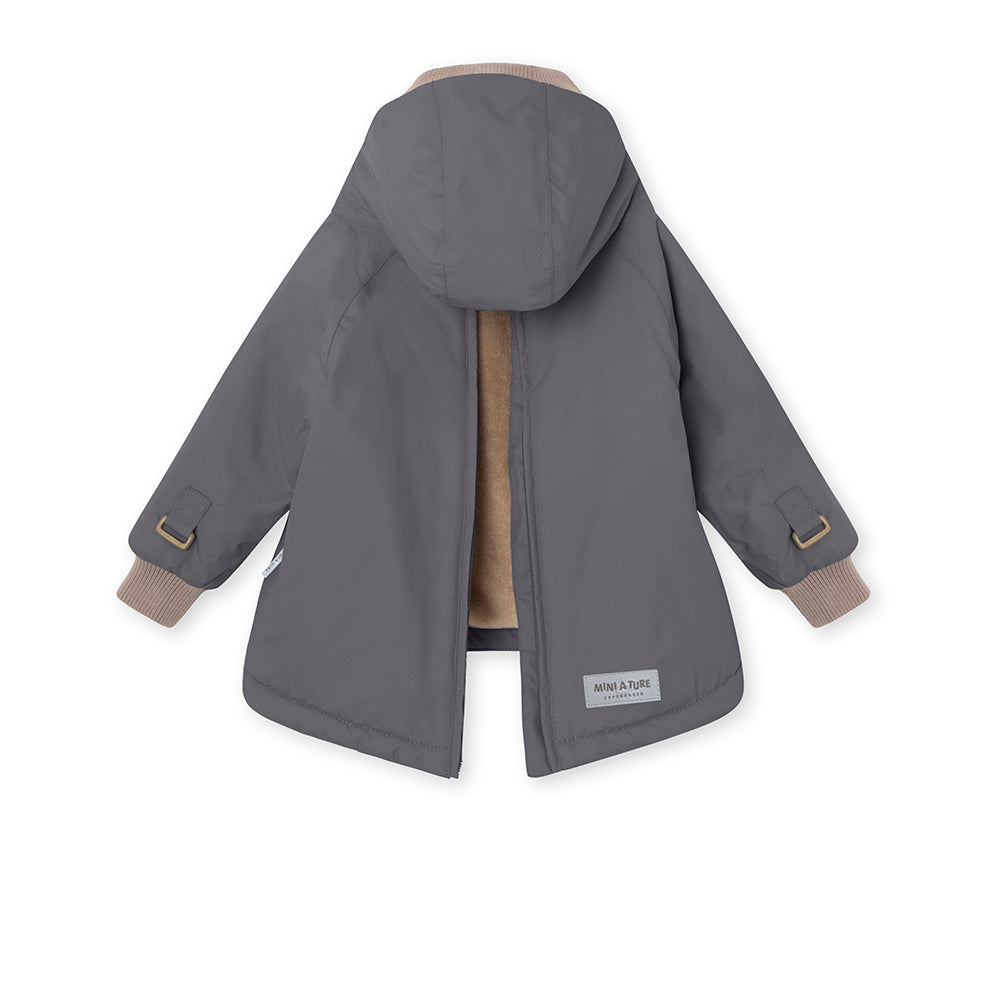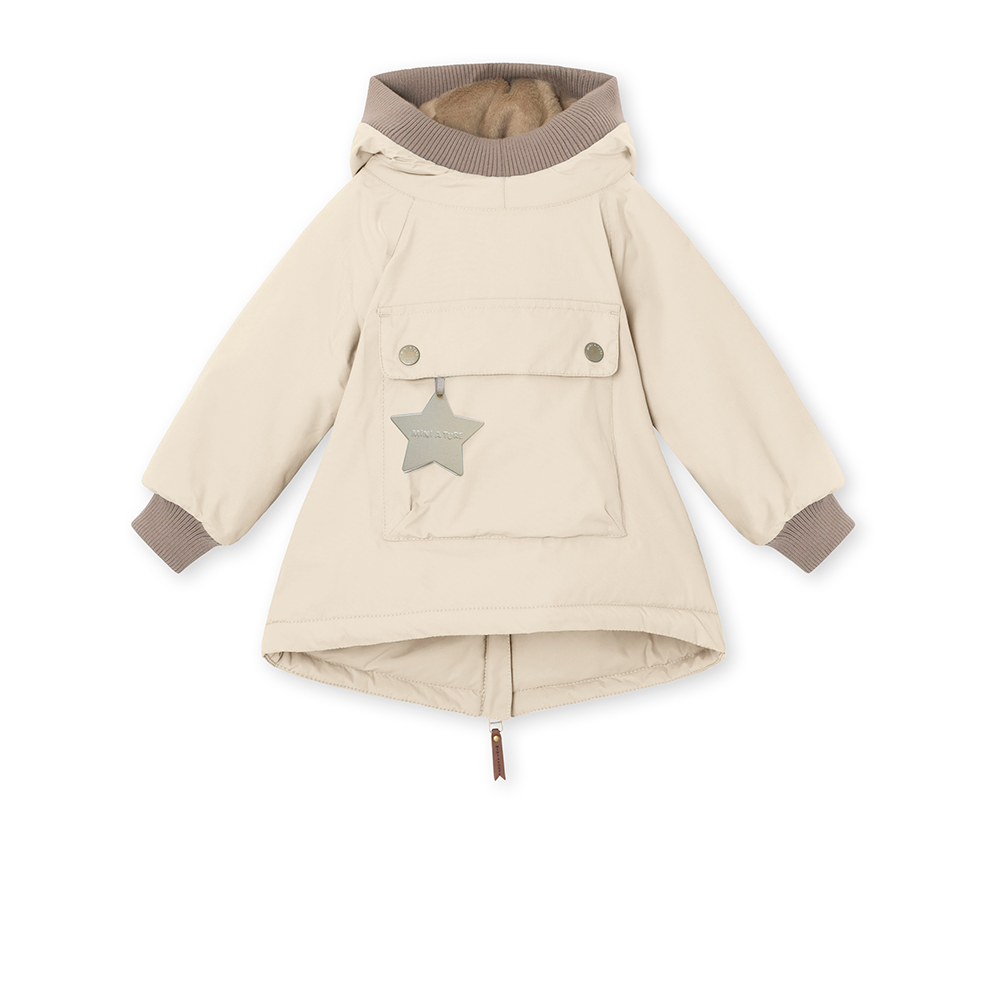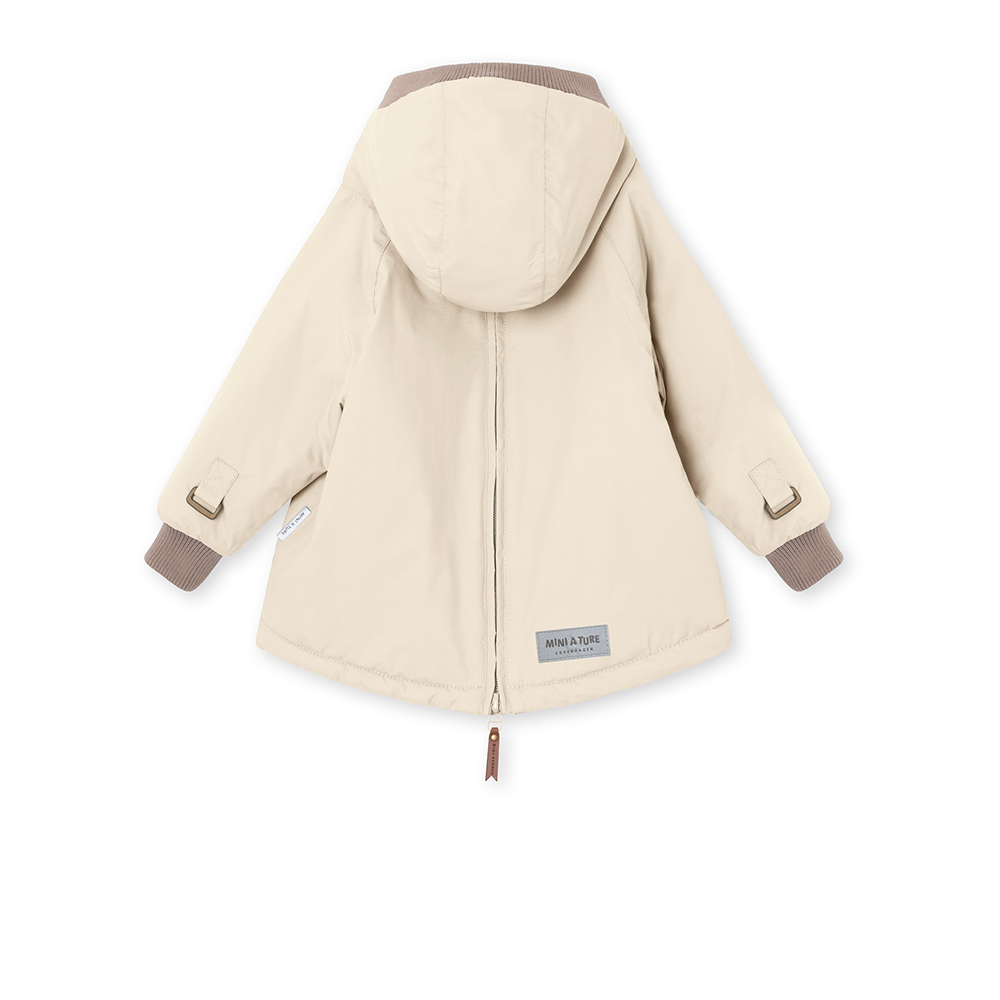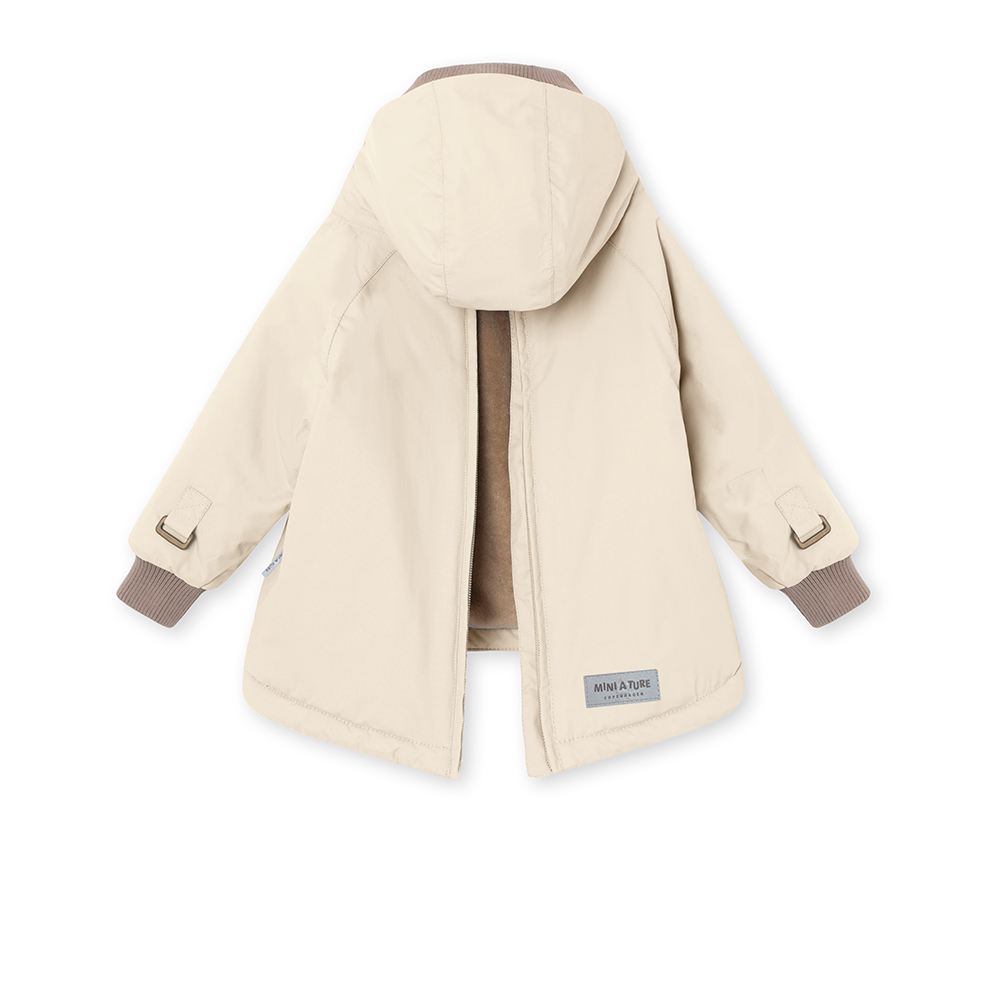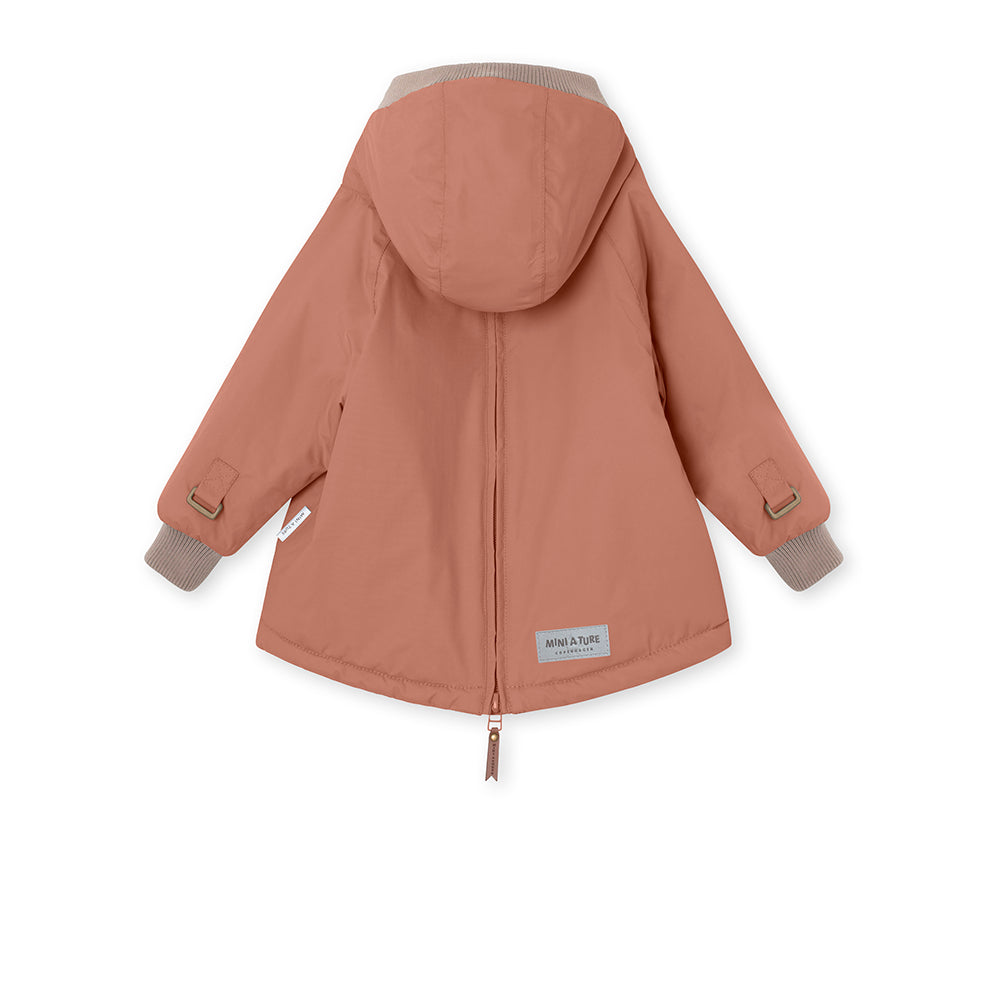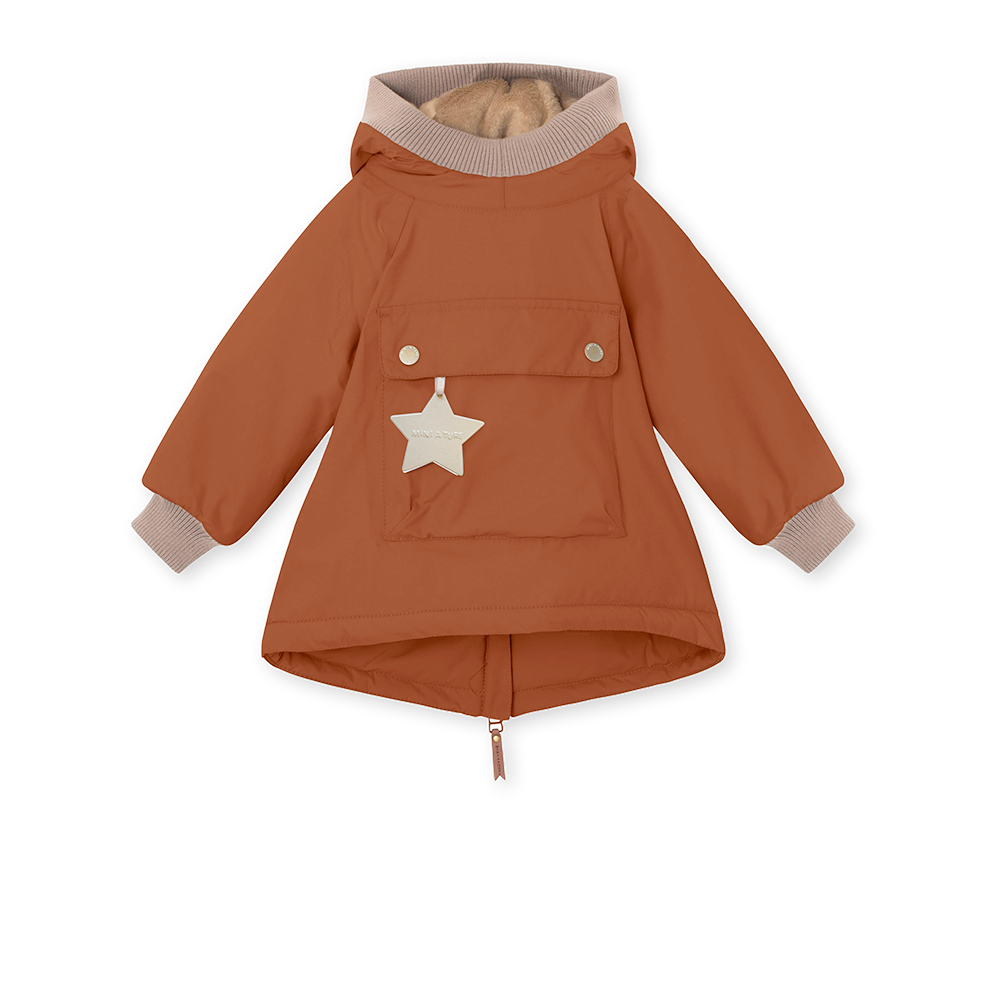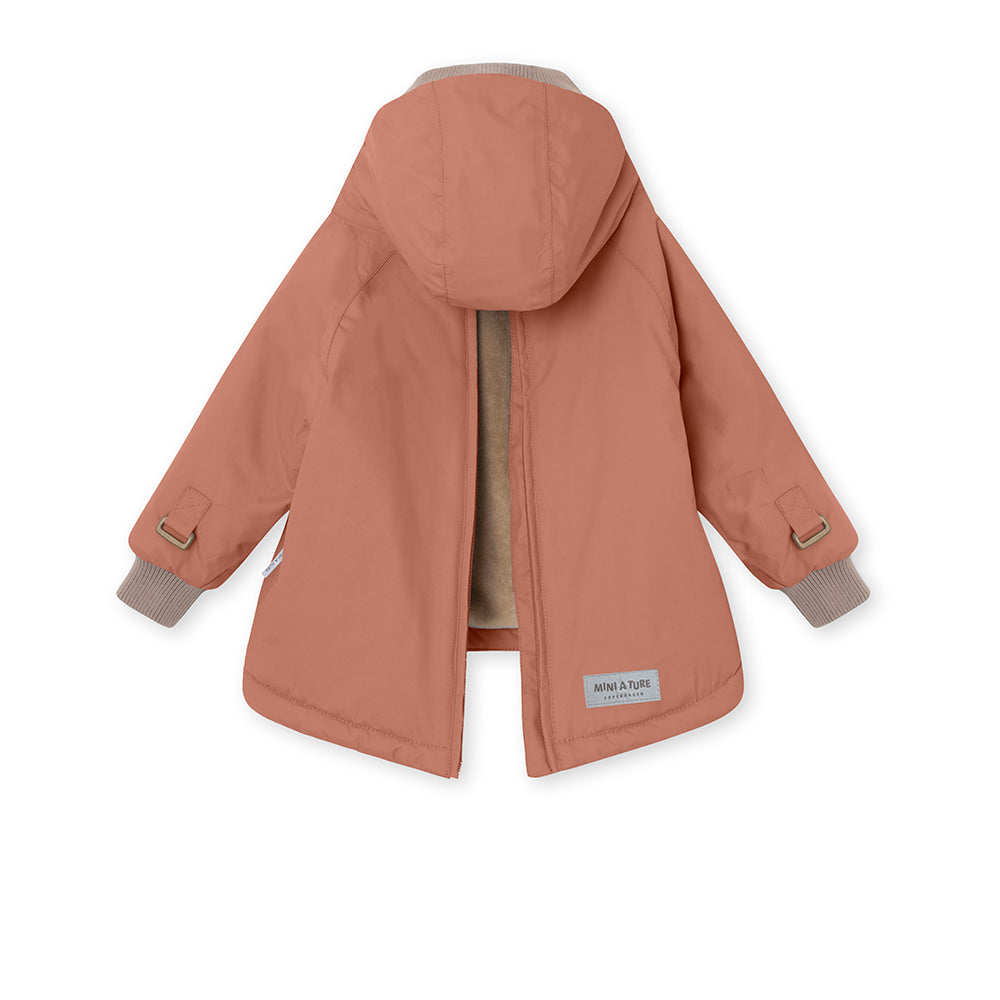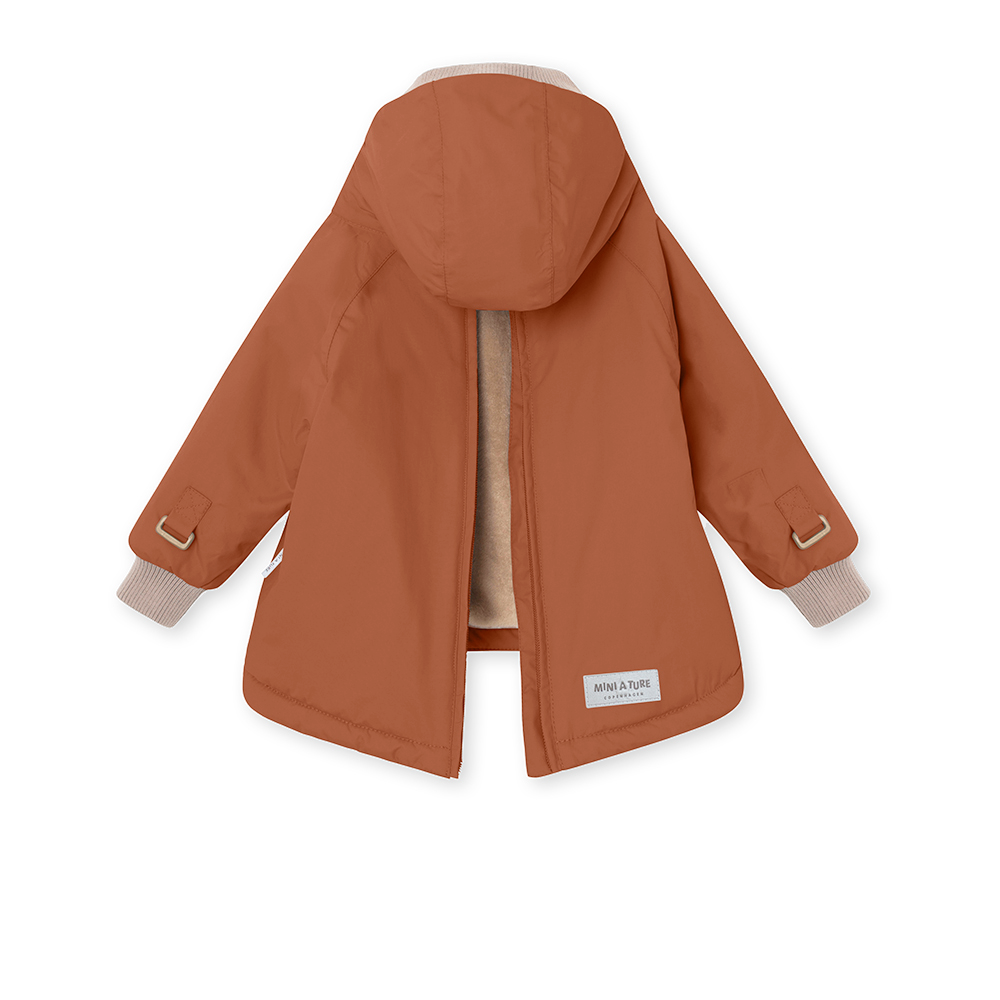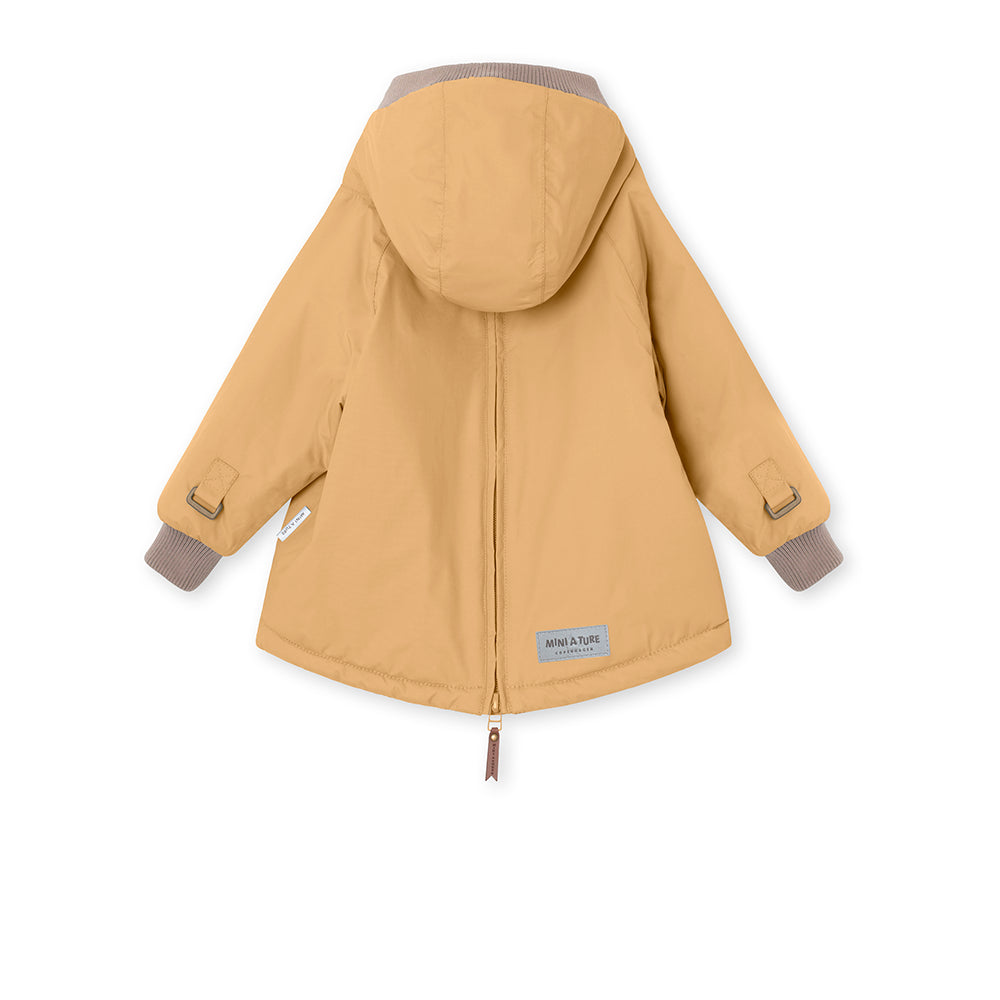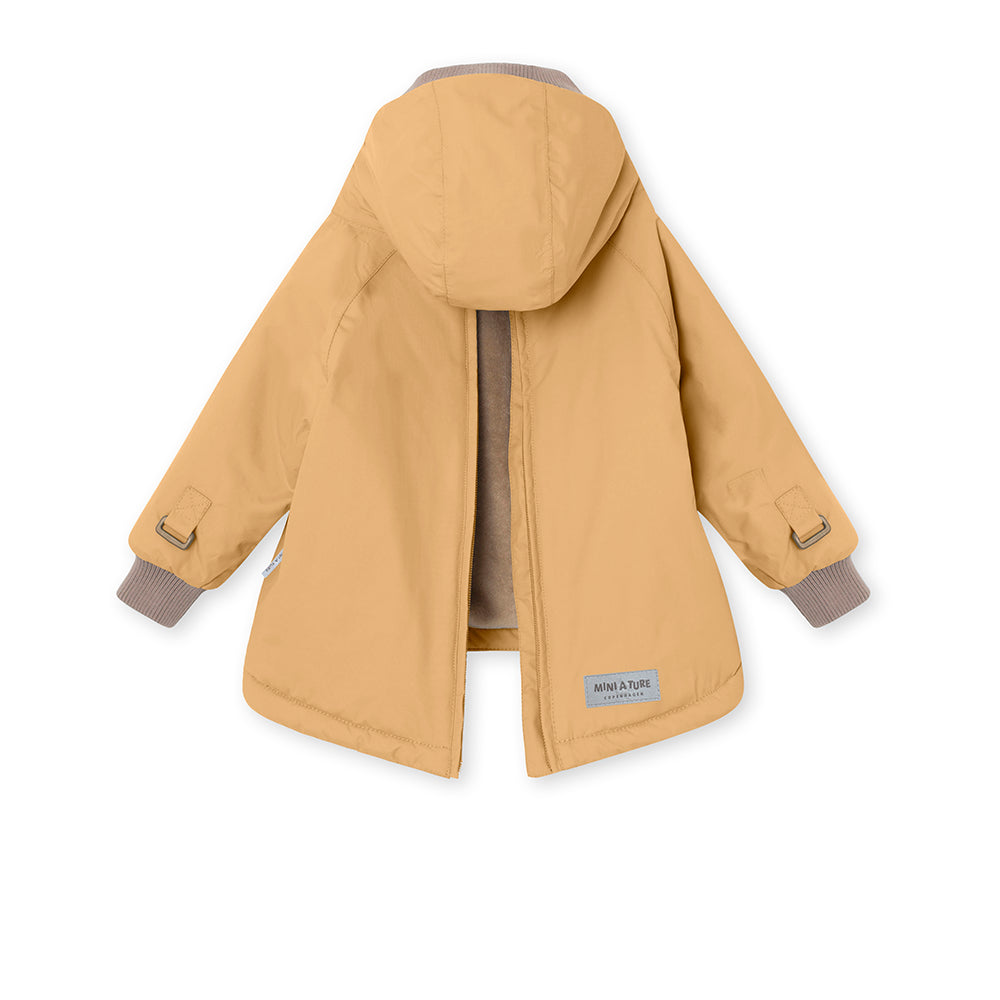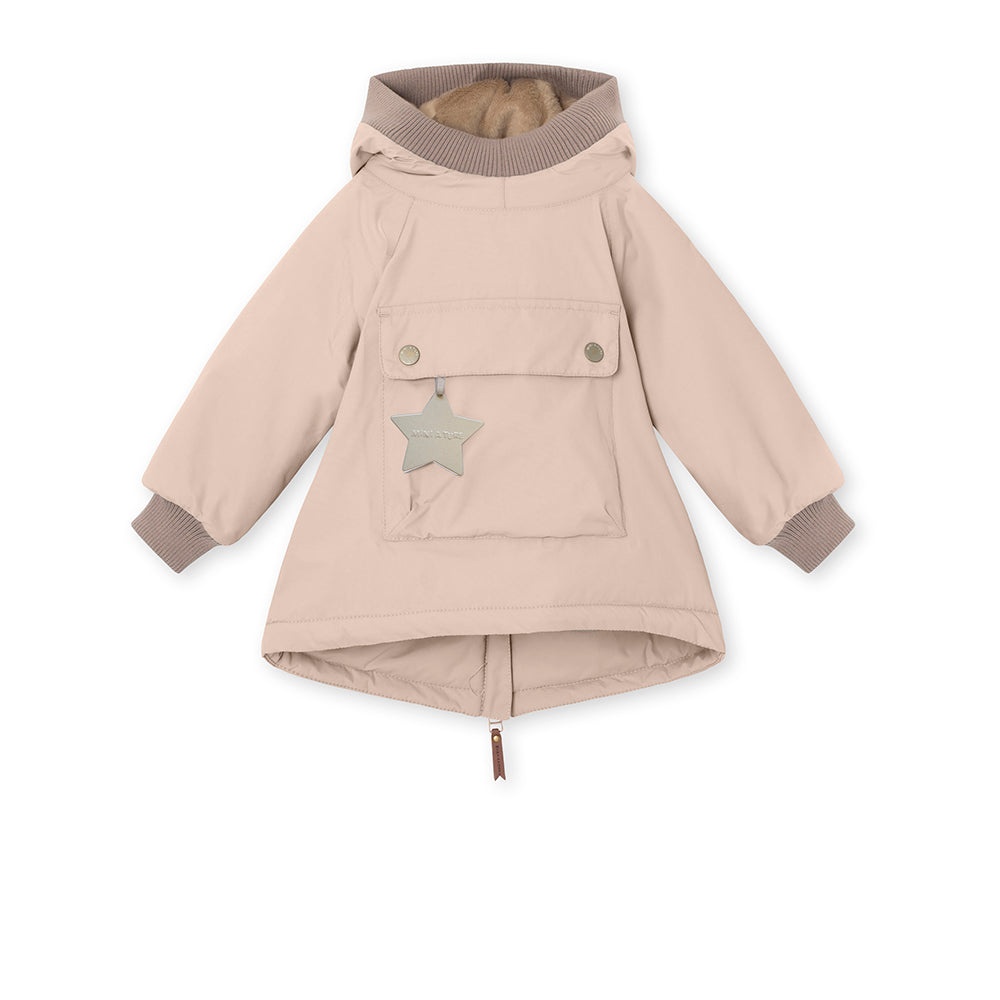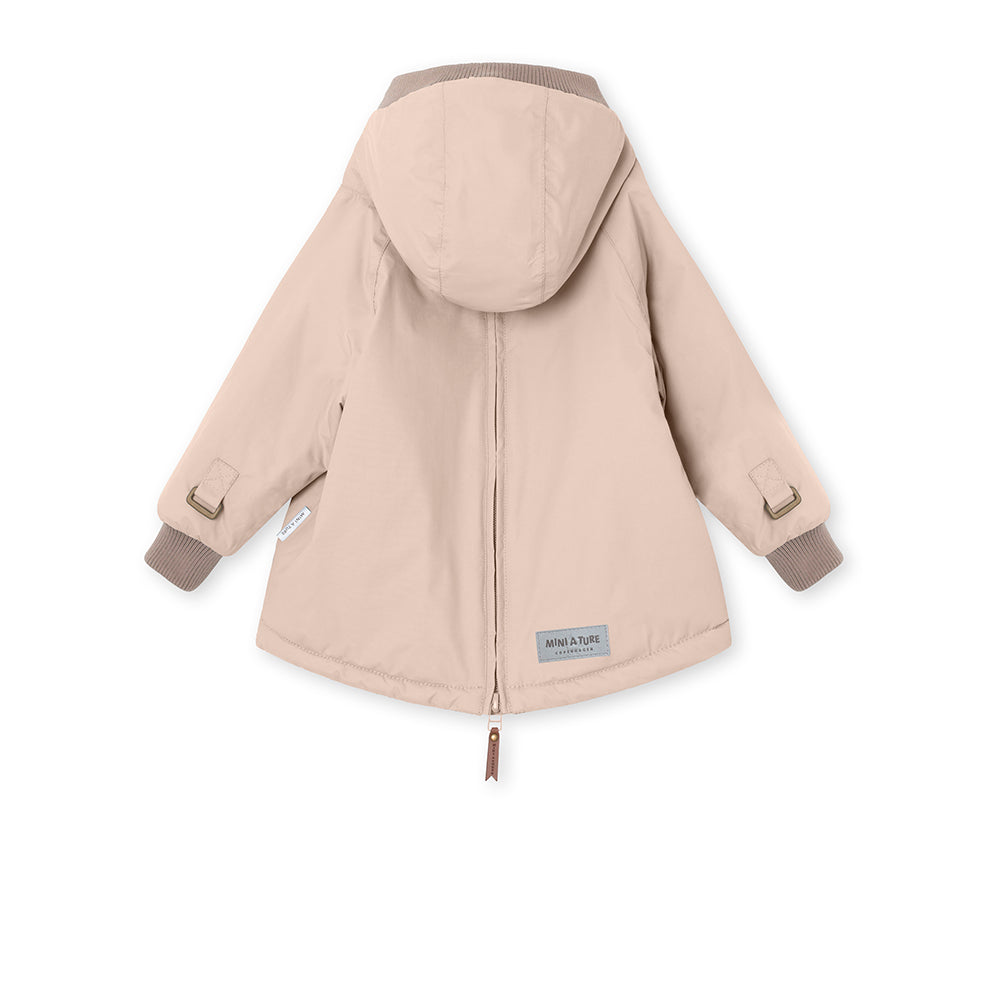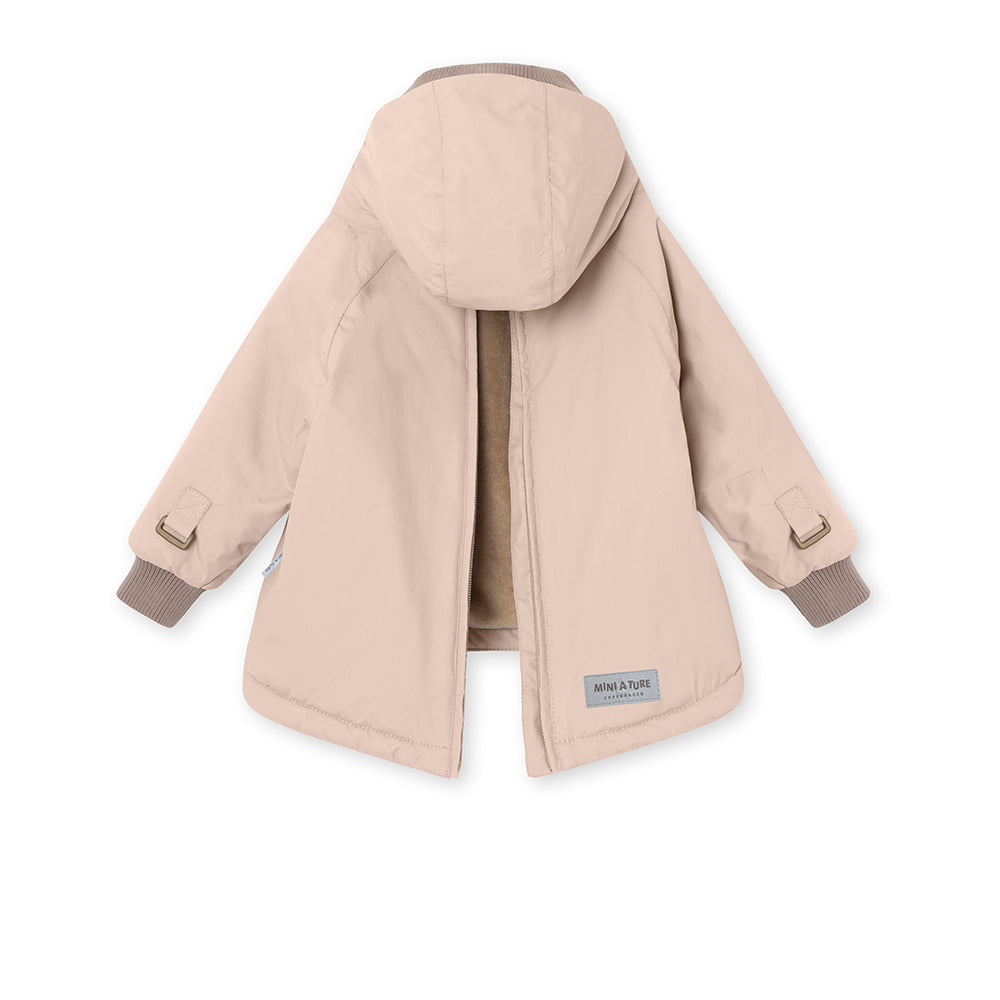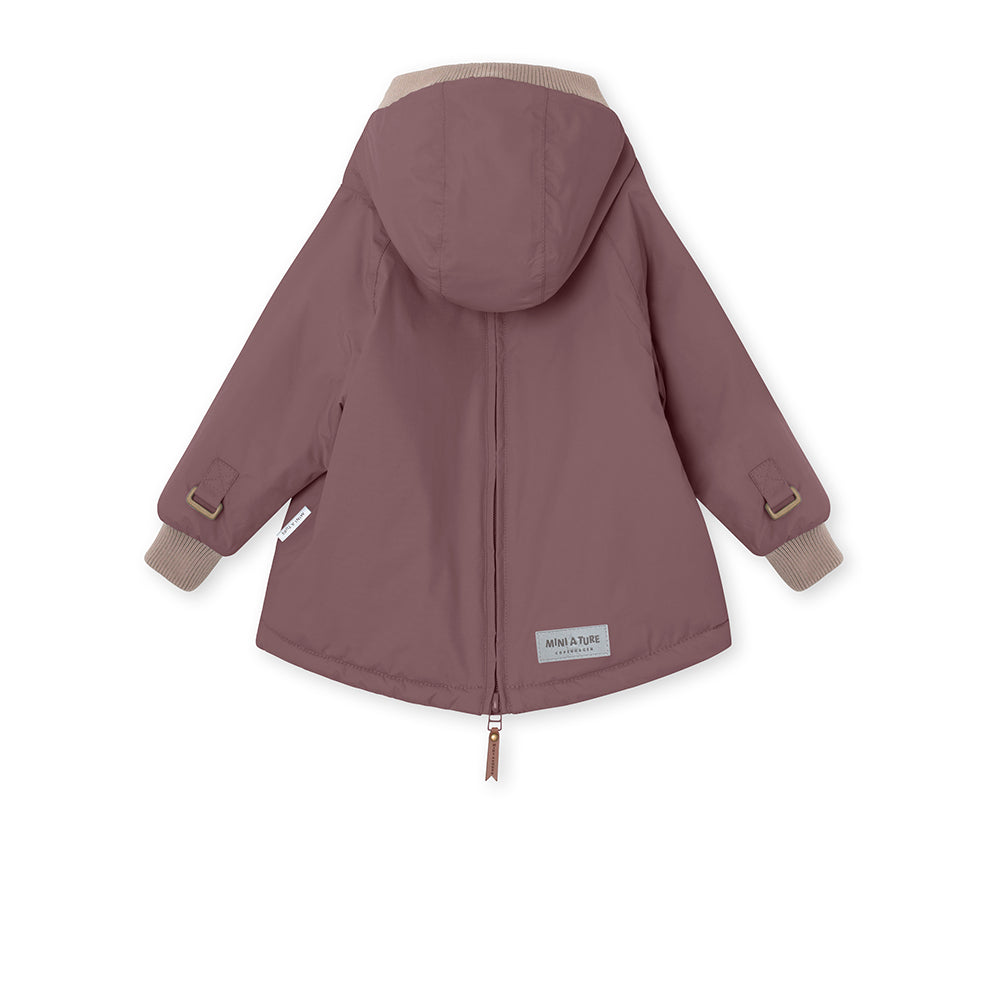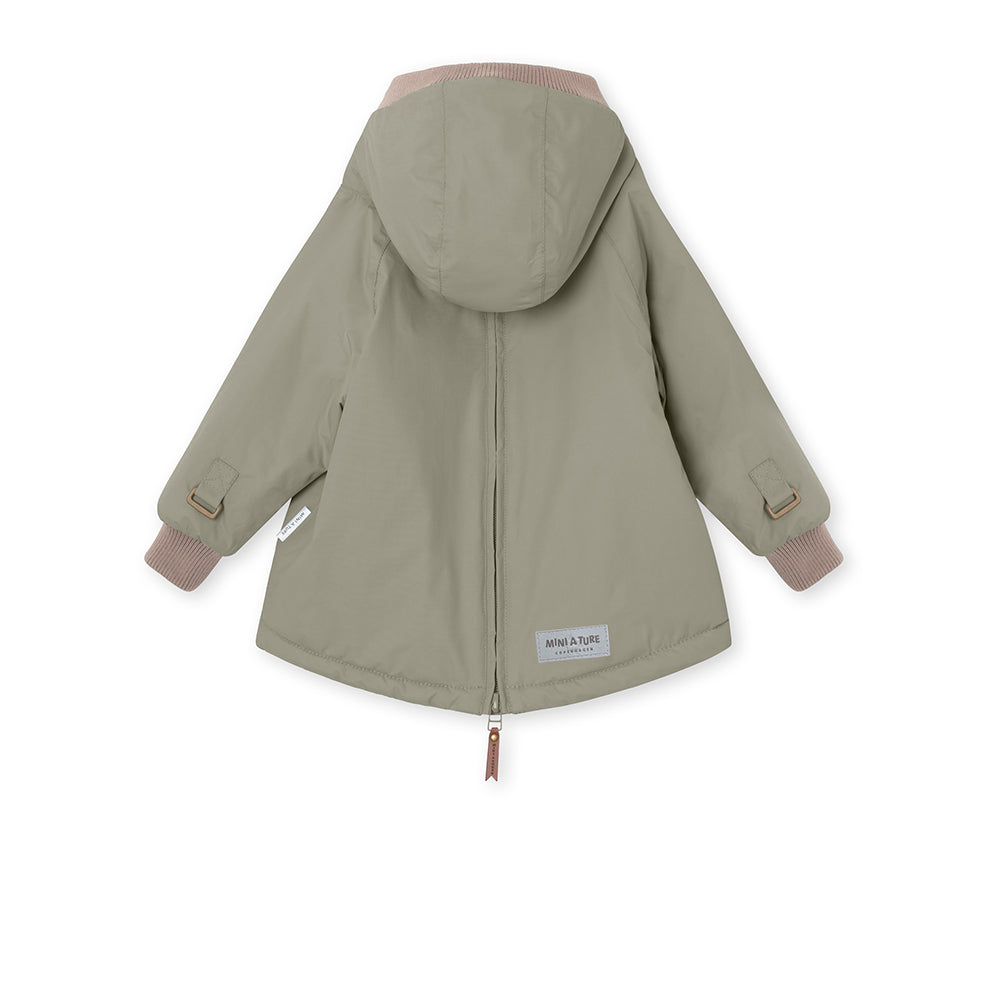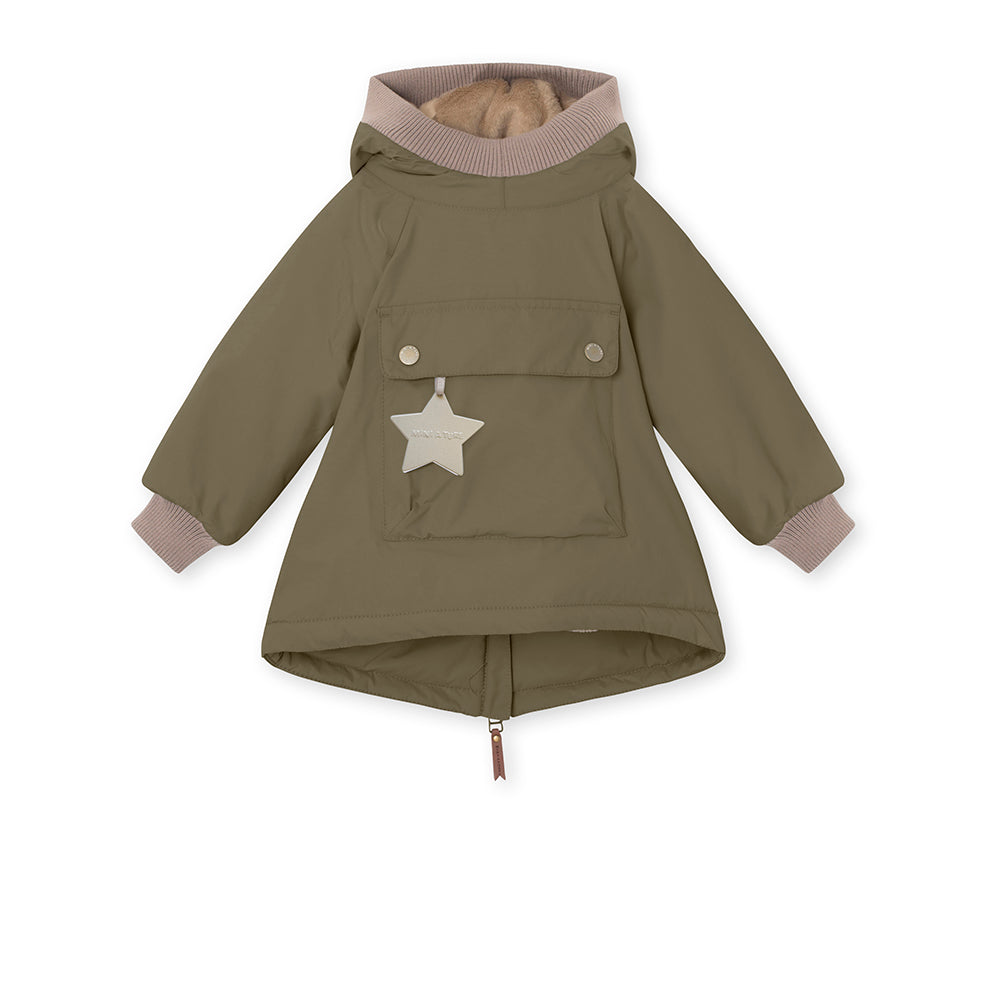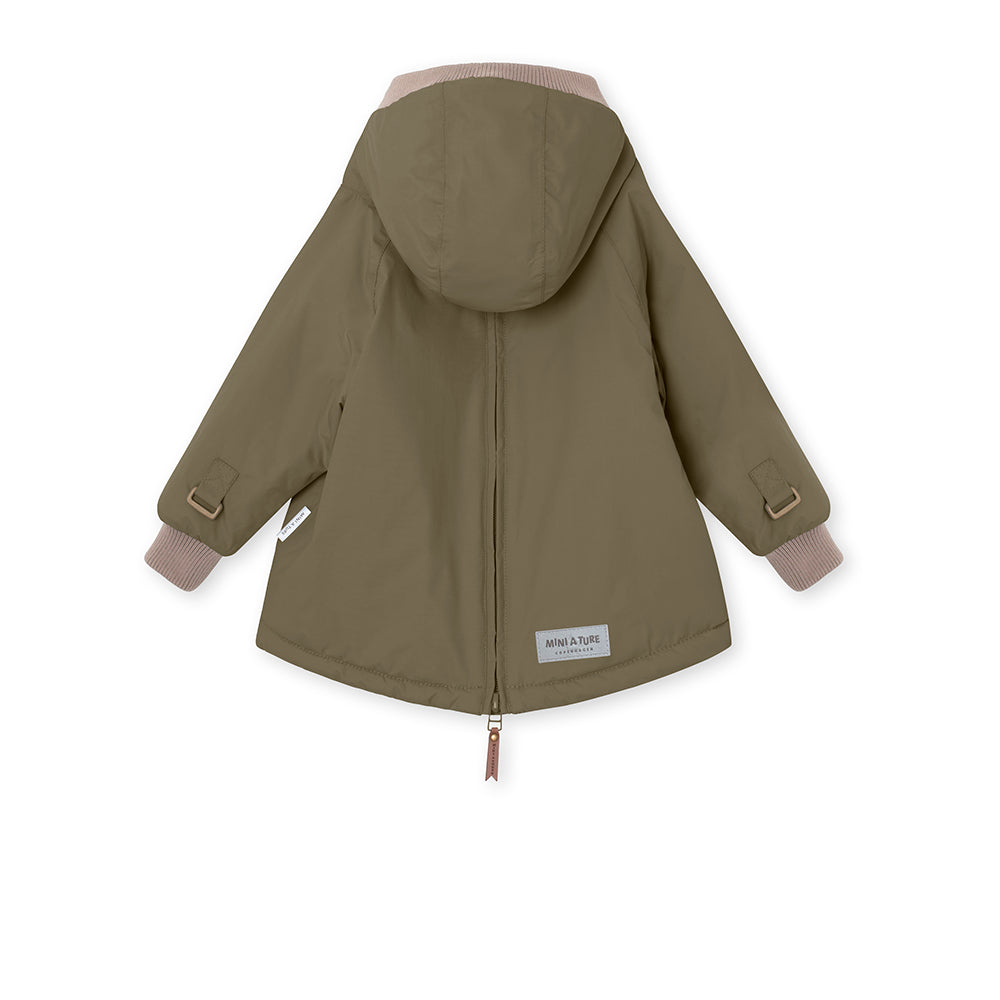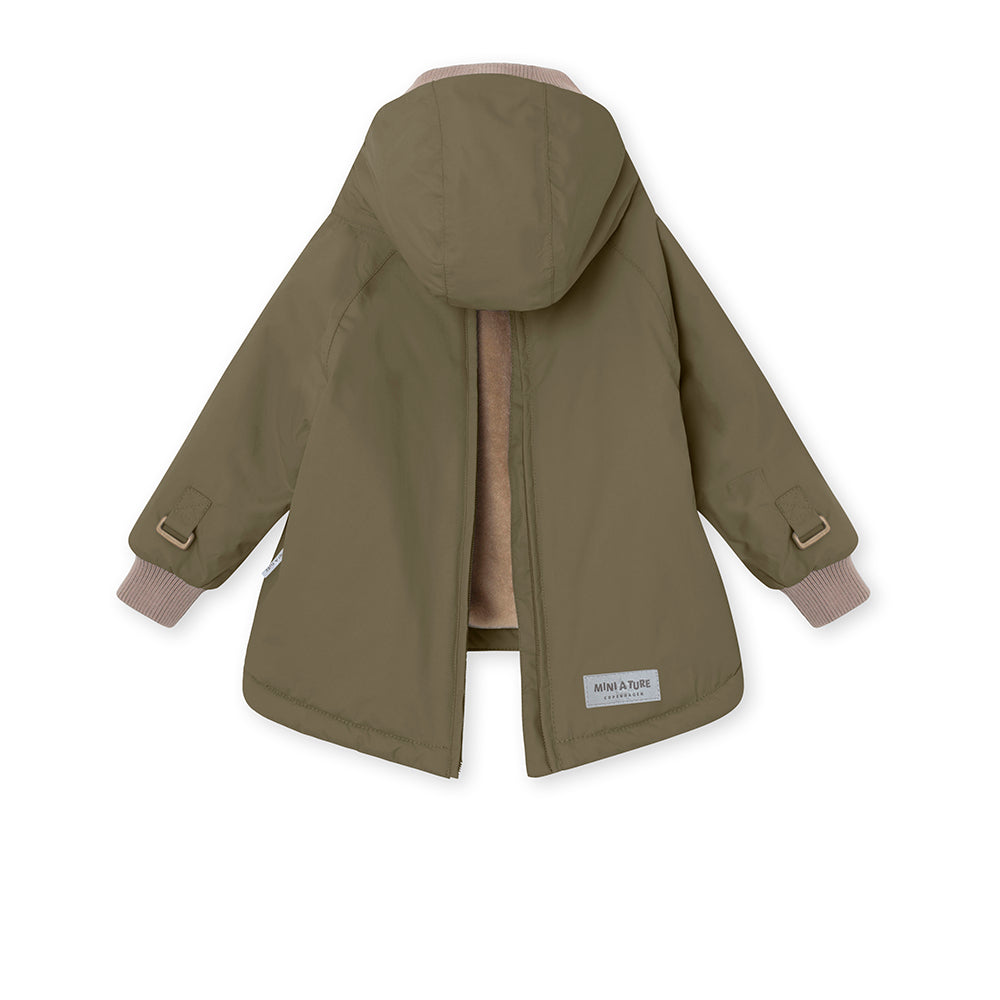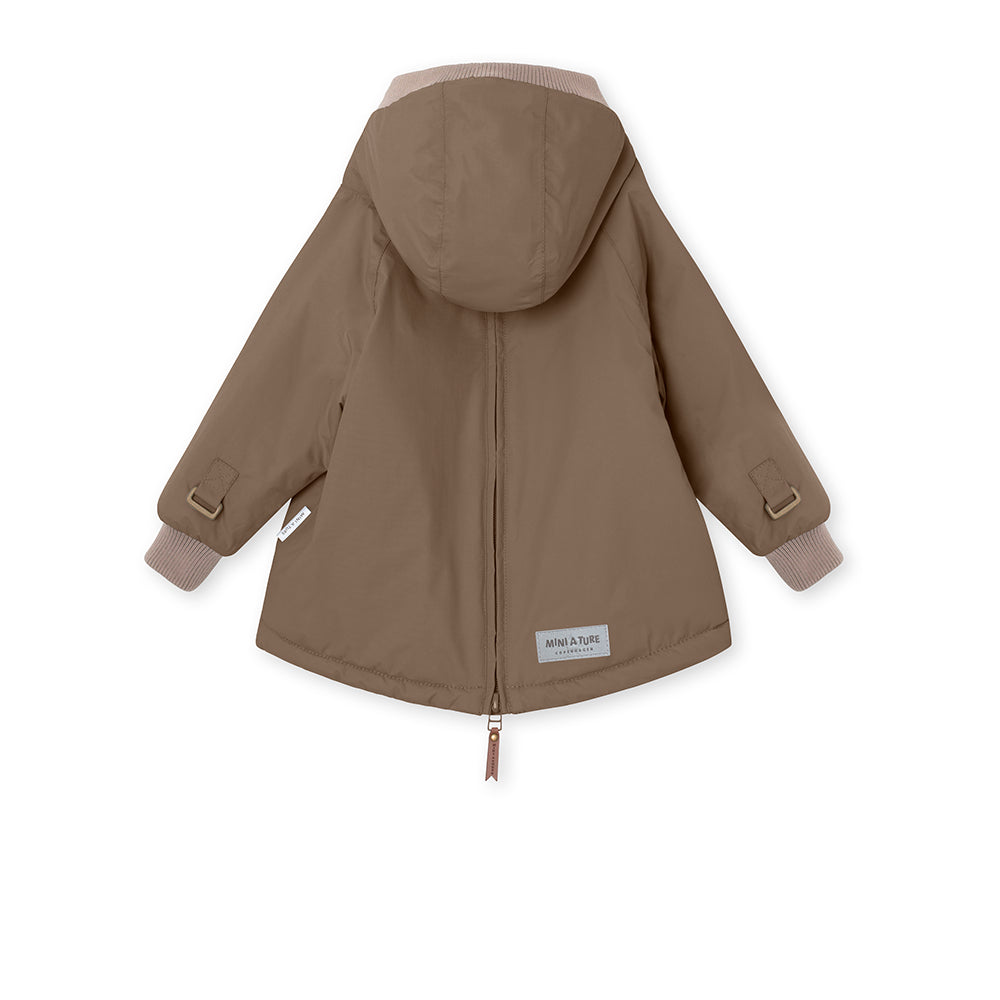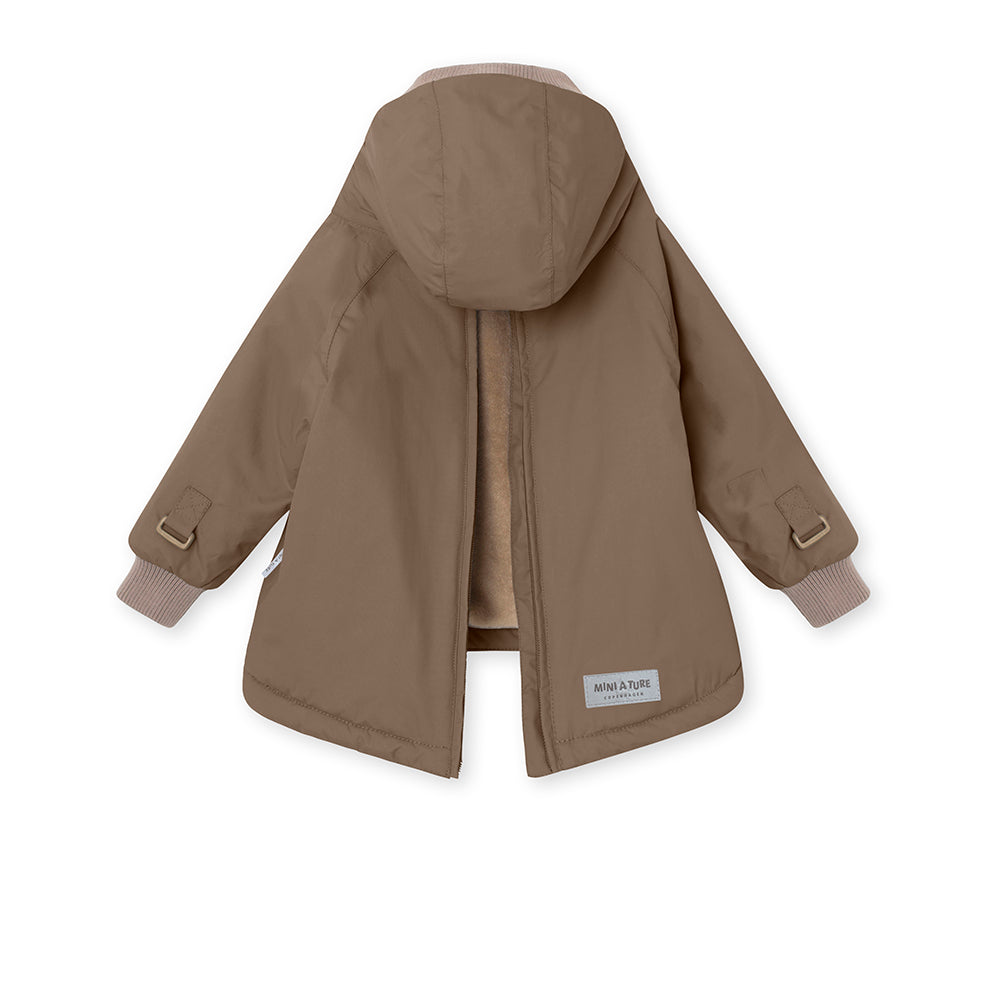 Baby Wen winter anorak
Winter anorak for baby & toddler. Wind and waterproof, breathable, and warm enough for a very cold winter. The zipper at the back goes all the way up into the sewn-on hood, making the anorak easy to put on and take off. Buckles on the sleeves allow for attaching MINI A TURE mittens and gloves. Lined with a soft and warm fleece, ensuring the child can stay warm for hours.
Read more in the description.
Description:
Classic MINI A TURE winter anorak for the smallest children. 100% wind and waterproof, breathable and warm enough for a very cold winter. The anorak has a soft rib round the face as well as on the wrists. In front there is a large pocket with two push buttons. The inside of the jacket is covered with a soft and warm fleece, which ensures that the child can keep warm for hours. The zipper at the back goes all the way up into the hood, which makes the anorak easy to put on and off.

Composition:
Main material: 100% recycled Nylon
Inner material: 100% recycled Polyester
Padding - THERMOLITE®: 65% polyester 35% recycled Polyester

Info:
MINI A TURE's star reflex in the pocket, 70 lux
Logo reflexes at the side and back, 70 lux
Taped Seams: Yes
Breathability 8.000
Abrasion Resistance: <50.000 rubs (Extremely high)
Bionic Finish® Eco coating
Water Pressure: 12.000 WP

Wash & Care:
Do not dry clean
Do not iron
Do not bleach
Wash at or below 40° C
Please wash inside out
Tumble Dry, Normal (low heat)

Product number: 1223132700
This jacket has a 10-year guarantee
At MINI A TURE we aim high and produce outerwear in the best quality and with lasting value. Starting August 2023, we are proud to introduce a 10-year guarantee on our classic outerwear range. The guarantee applies to selected styles. 
---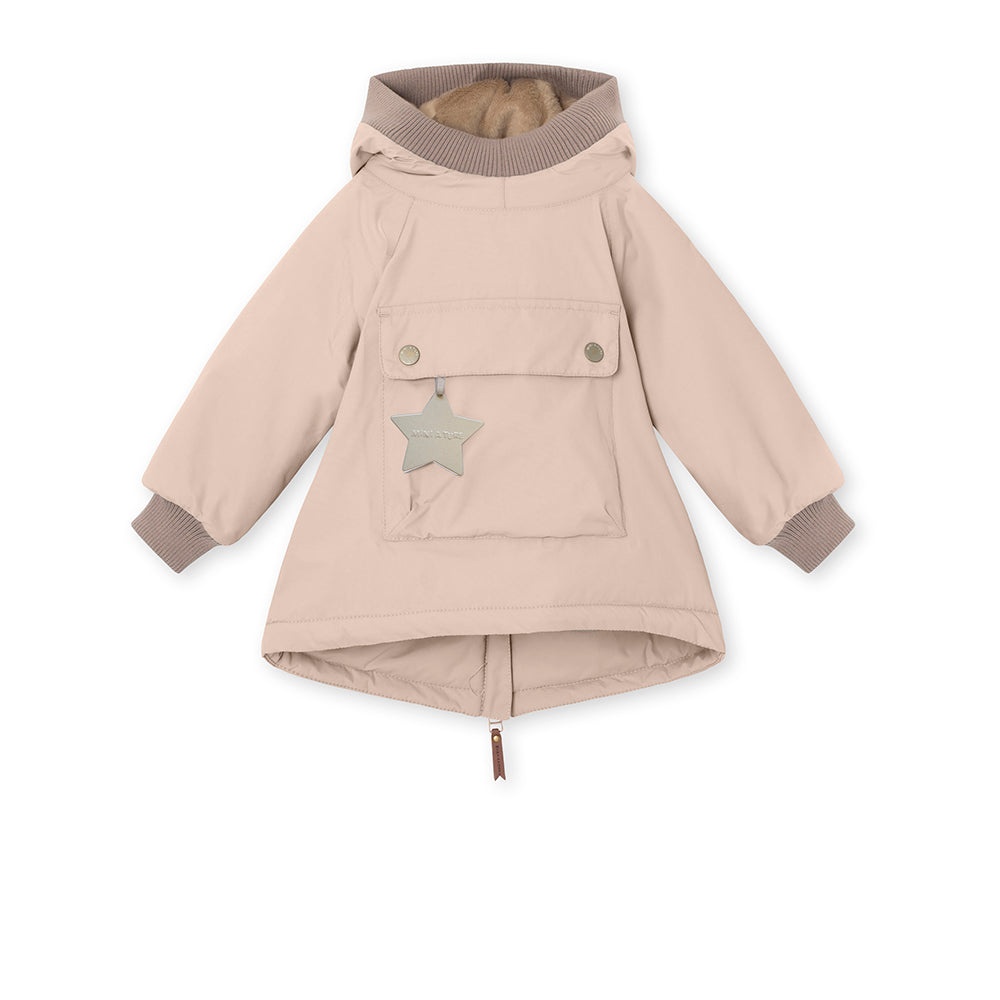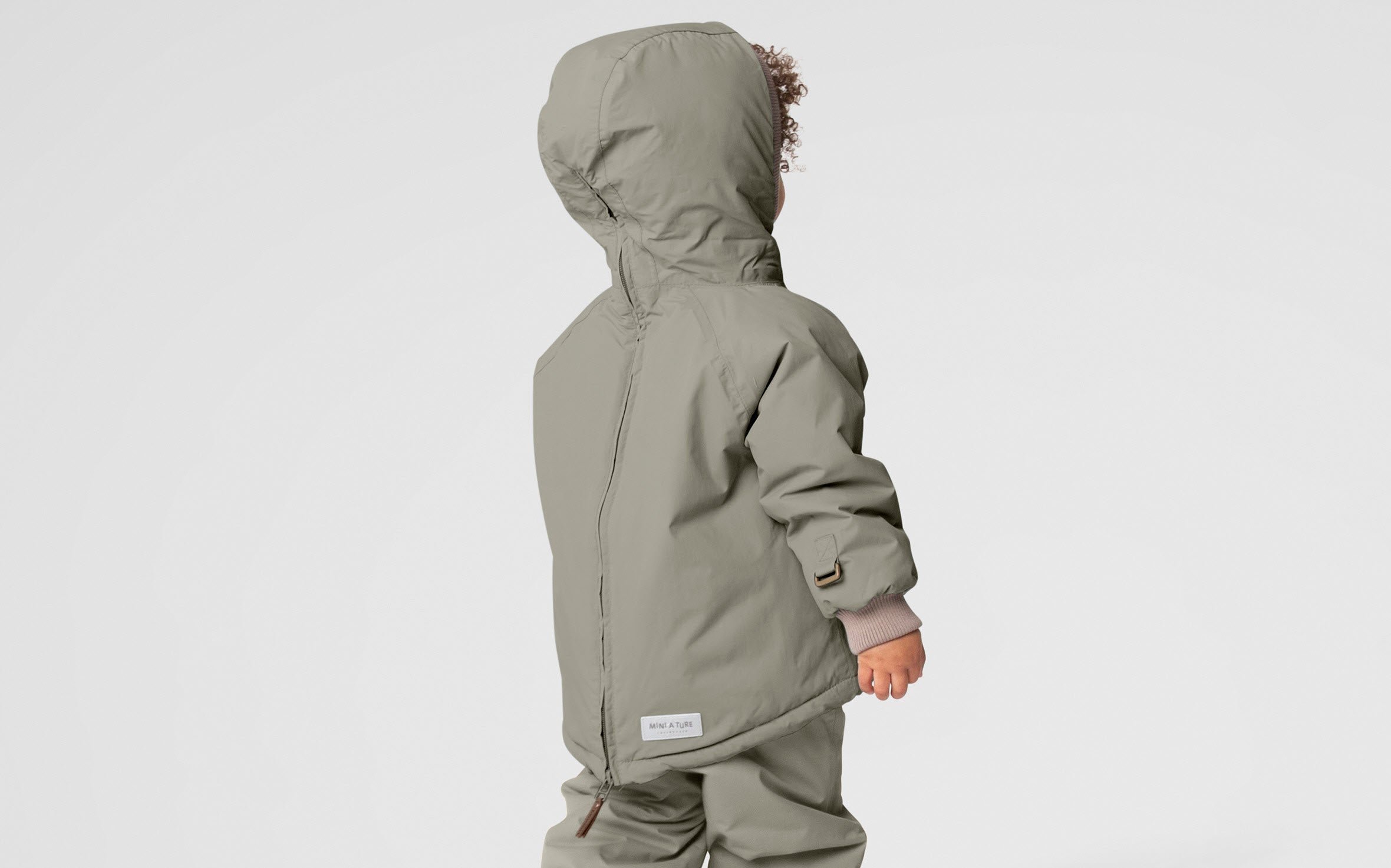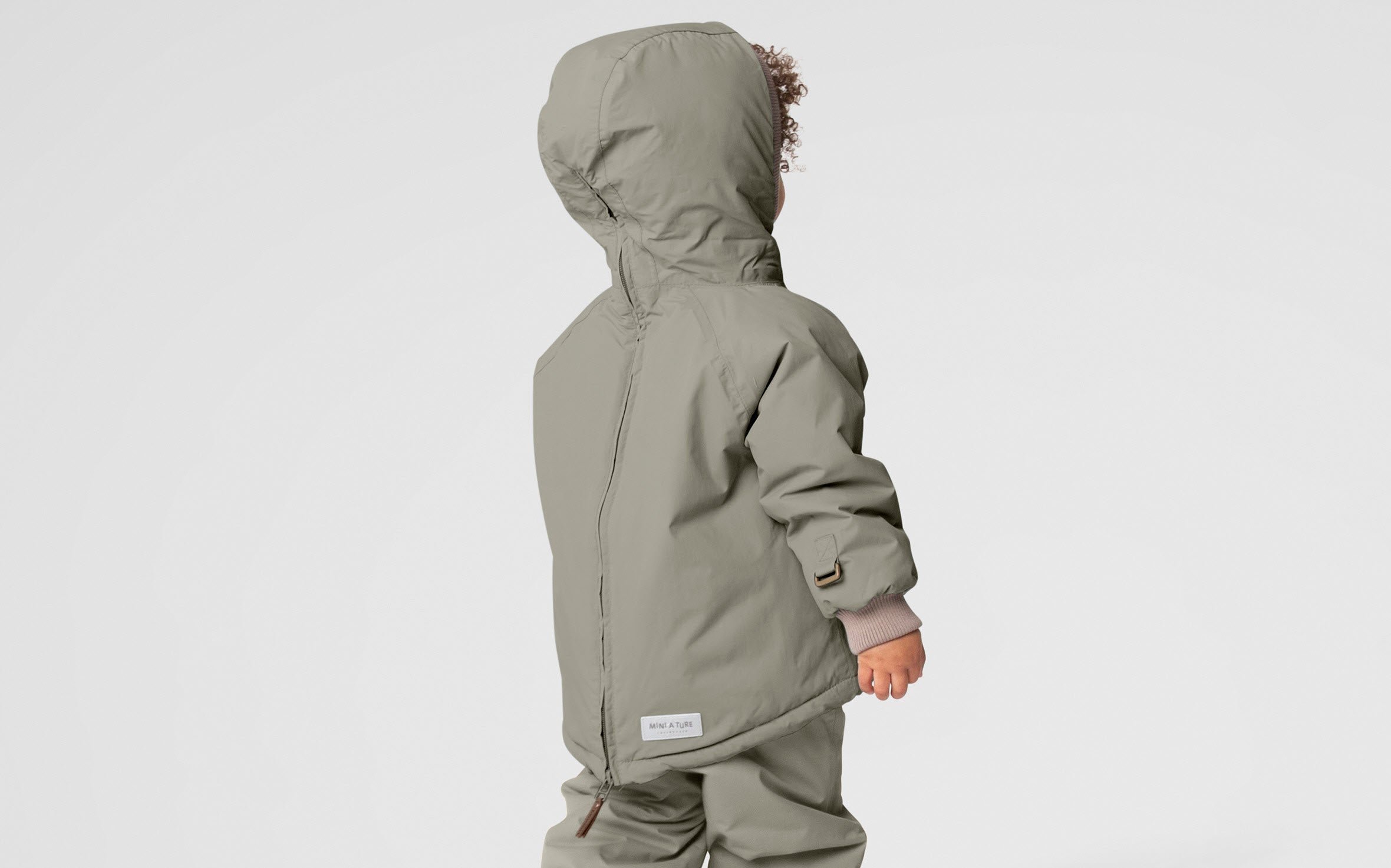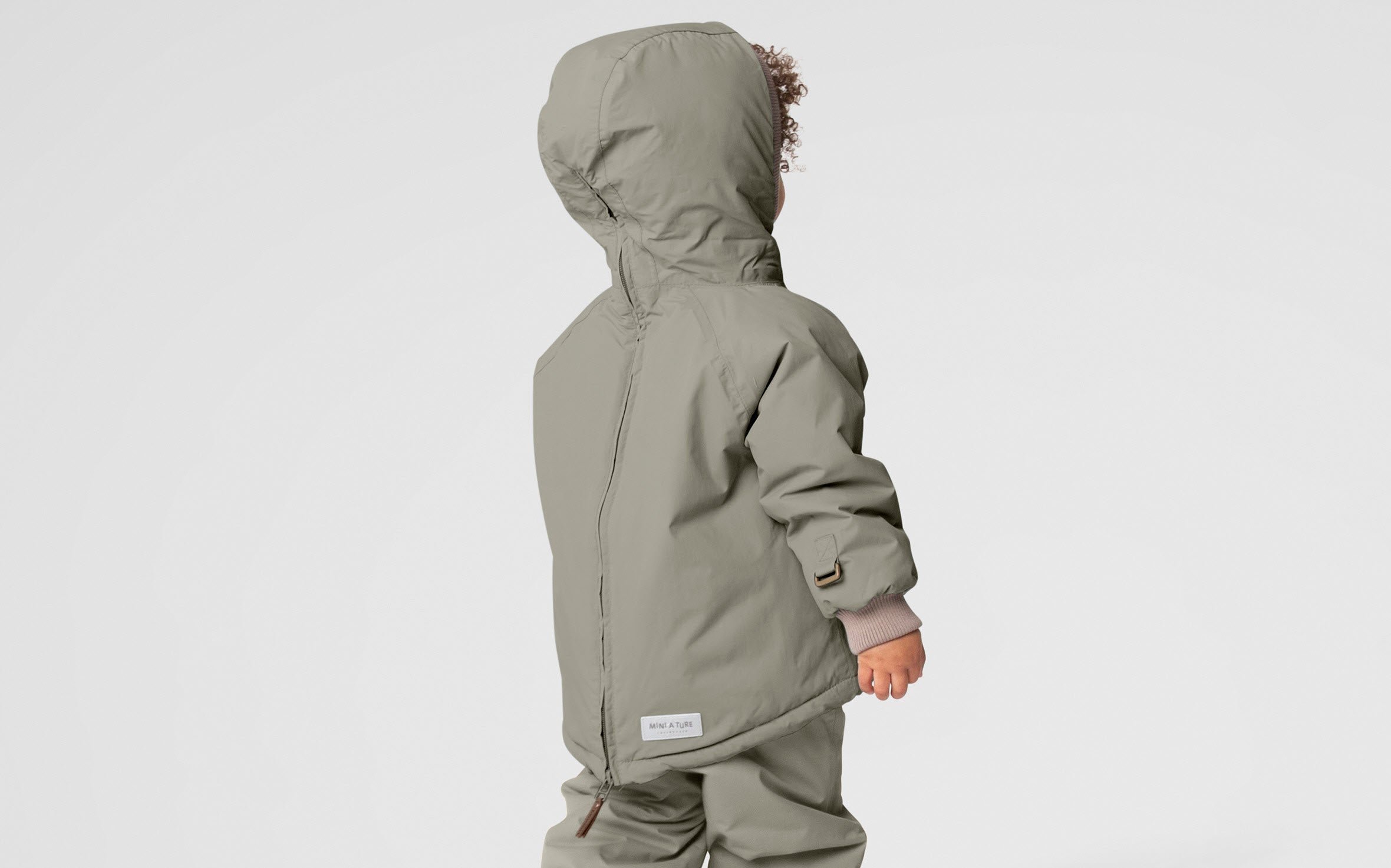 Attach mittens & gloves
On the sleeves, there are buckles that allow you to attach MINI A TURE mittens and gloves, so they don't get lost. On our gloves and mittens, there is a Velcro strap designed to be pulled through the buckle.
Reflectors
Our iconic star reflector is attached in the fron of the jacket and additional reflectors in various other places on the jacket ensure that your child will be seen in the dark.
Back zipper
The back zipper extends all the way up into the sewn-on hood, making it easy to put on and take off the anorak.
It is in the MINI details...
MINI A TURES CLASSIC BABY ANORAK
Known and loved by most with small children due to the clever back closure. The BABY WEN anorak is wind and waterproof with taped seams, yet incredibly breathable and durable. This means that excess moisture and heat can escape while keeping your child warm, dry, and comfortable during active play and movement. With its impressive insulation properties, it can withstand even the coldest winters, down to -25 degrees Celsius. The outerwear is both tested and guided by the Institute of Technology and meets the requirements of testing standard ISO 11092:2014. MINI A TURE's BABY WEN anorak is designed with comfort in mind, featuring a soft rib edge at the face and wrists for added protection and comfort. Neither rain, snow, nor wind penetrate our anorak. The BABY WEN anorak comes with a practical large front pocket equipped with two snap buttons and a visible logo reflex that can be seen up to 300 meters away, making this anorak both functional and safe, for example, in traffic.
This adds an extra protective dimension, ensuring your child is visible and secure even in dim light or darkness. The zipper at the back goes all the way up to the sewn-on hood, making it easy to put on and take off the anorak. There are buckles on the sleeves for attaching MINI A TURE mittens and gloves. With a water column pressure of 12,000 WP and an extremely high abrasion resistance of over 50,000 rubs, you can be sure that our BABY WEN anorak will withstand even the most challenging weather conditions and prolonged use. The material is made from recycled nylon, and inside the anorak is lined with a soft and warm fleece of recycled polyester, keeping the child comfortably warm for hours. The padding is made of THERMOLITE. Furthermore, our anorak is treated with Bionic Finish Eco coating to ensure extra waterproofing and durability. The material is thoughtfully selected for our planet and the environment, allowing you to dress your child in the BABY WEN anorak with a clear conscience. We are also proud to share that our anorak is produced in a BSCI-certified factory, ensuring ethical production and good working conditions. We take great pride in being consistent and conscious in our choices as we aim to minimize consumption, deliver durable and reliable products from recyclable and sustainable sources, and protect our planet so that future generations can enjoy the planet and nature as much as previous generations. We carefully design our products to support your child's comfort and safety in all kinds of weather and play. Drawing on our Scandinavian roots and extensive knowledge of the Nordic climate, whether it's snowy winter days, colorful autumn, bright summer days, or blossoming spring, we understand what proper outerwear requires. Our intention is to create clothing that encourages your children to play freely and experience nature - anywhere, anytime. Our BABY WEN anorak comes in a wide range of colors, allowing you to choose the one that best suits your child's style and preferences. You are never too small to make a difference.