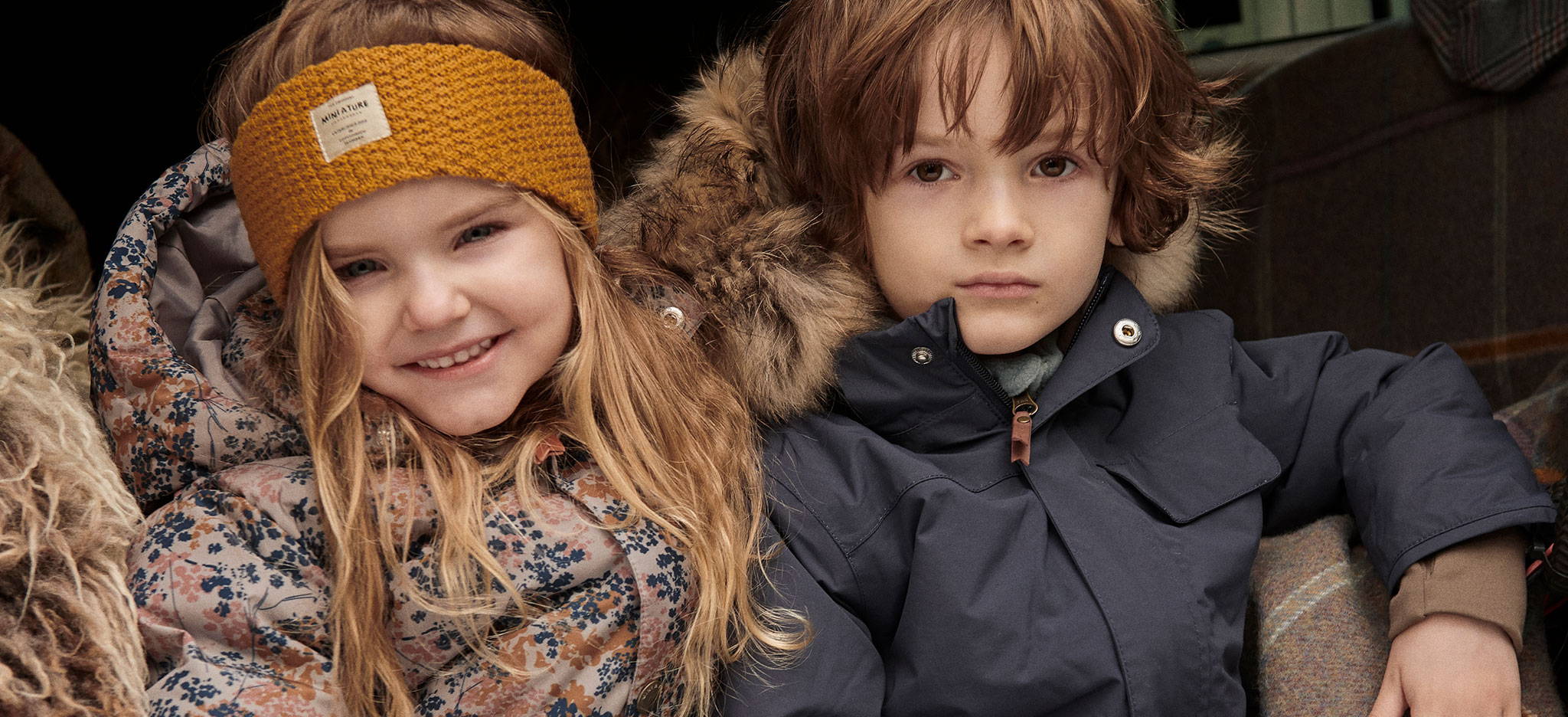 My name is Signe Tholstrup, and I founded MINI A TURE in 2002 along with my husband and two friends. I have three children, two girls in their twenties and an 11-year-old boy.
Prior to devoting myself fully to MINI A TURE, I had quite a different career in mind. I was planning on engaging in a medical career focused on cancer-research. I thoroughly believe in using my career to have a positive impact one way or another, and I very much believe I am doing just that at MINI A TURE.
The change into fashion wasn't really expected but thrust upon me as life changes tend to be. My sole condition was that we were able to influence the world in a positive way. We wanted to do more than design childre's clothes. We want to have an actual impact on the people that we engage with throughout our value-chain. I am very thankful that we are succeeding in just this on several accounts.
Our children live radically different lives from our own, spending a far greater amount of time on digital or indoor pursuits, far removed from nature.
We believe that we should teach our children to care for nature so that they may feel at home within it, perceiving it as a source of comfort and stability just as we do ourselves.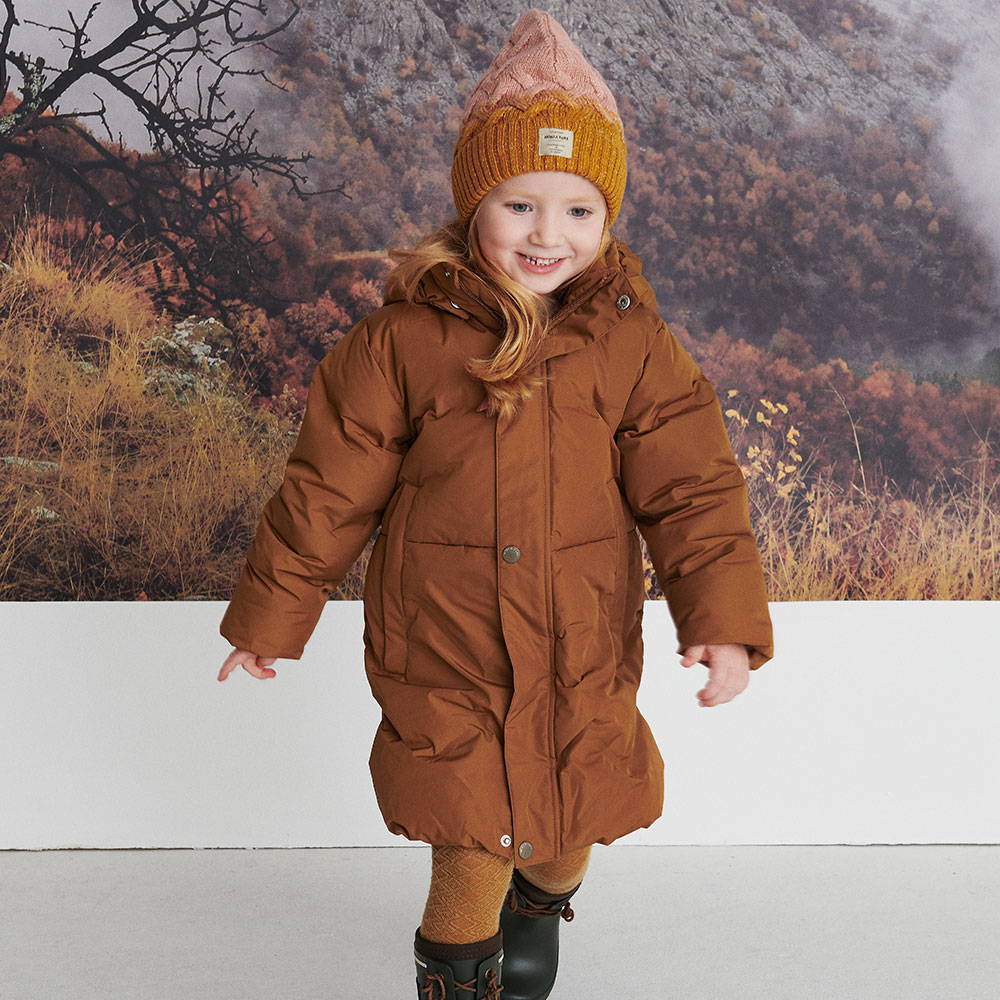 That is why we are working hard to make our children spend as much time in nature as possible and instead rely in their creative bustling minds for entertainment.
We are internationally known for our outerwear, and we are sure our jackets will accompany you and your child for a wonderful day in nature, no matter what the weather throws at you.
Children love the clothes because it is soft, dry and comfortable. Mothers fall for the design, finish and unusual durability.
We love crafting the best garmenst that our abilities allow. Our business ethic is to always do more, and as such "good enough" is simply not good enough. We care about reaching beyound our limits and to always grow and learn, and that is propaply the single most important contribution to our success.
As stated earlier, we want everyone in our value-chain to benefit from our operations, not just you.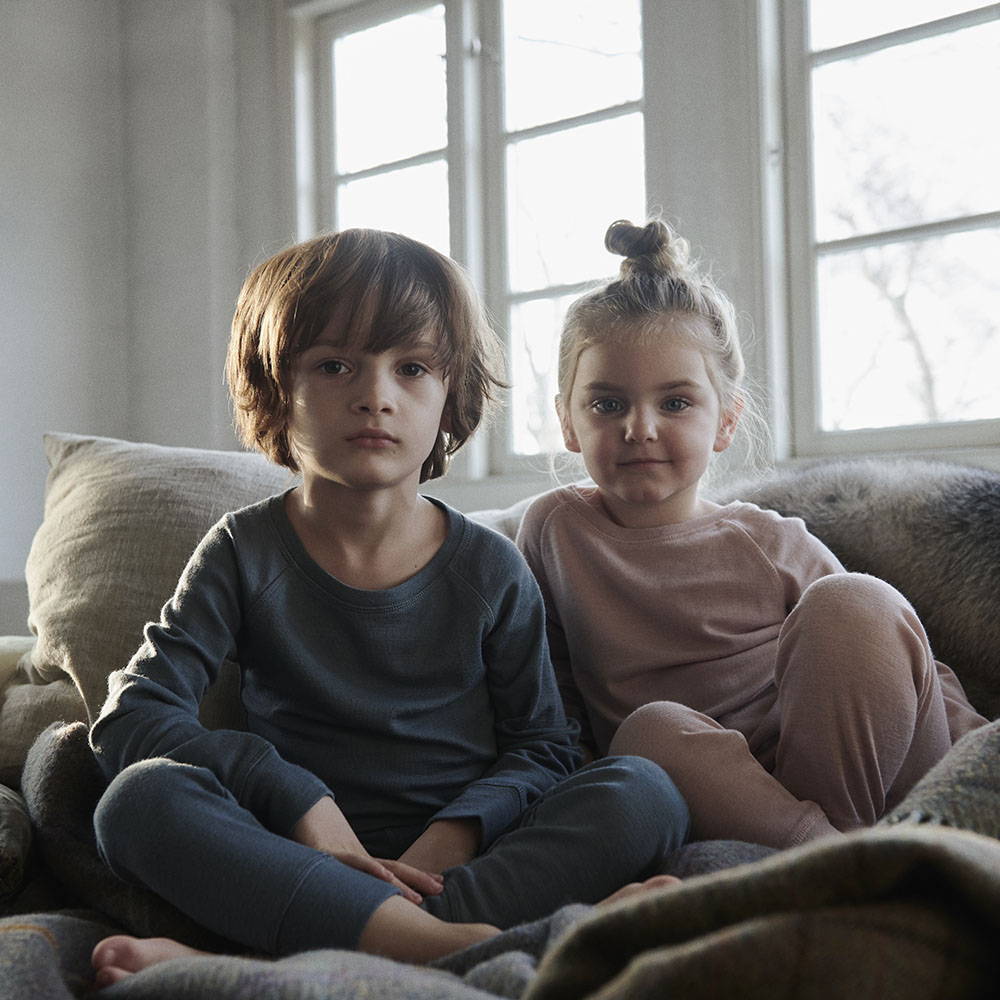 As outerwear-specialists you can also expect our products to include the most recent technological innovations within outerwear. We continously implement on nature, which is in line with our beliefs that "good enough" simply isn't good enough.
Old is gold:
We are very proud of the structural integrity of our clothes and have launched campaigns to encourage future reuse and resale of our clothes.
Take our partnerships with Reshopper, the largest platform for reselling children's clothes within the Nordics. According to them our products have some of the highest resale prices, reflective of our constant attention to detail. Moreover, we also offer advantages to those of you who donate you old MINI A TURE clothes to us, so that we may pass them on to our orphanages in India. We have had a longstanding and close partnership with Sunway Children's homes since 2004, and we do everything in our power to help.
That is why we have always worked with eco-friendly materials and methods at factories that comply with our high requirements for working conditions.
We have now taken our environmental commitments one step further, and from spring 2021 all MINI A TURE products will be produced solely from the most sustainable materials available on the market.
Fighting overproduction:
To reduce overproduction and minimize the emissions associated with transportation we have decided to concentrate our attention on what we do best; preparing children for life outside. We are now a sustainable outerwear- and swimwear brand, with complementary "layering", clothes you can wear beneath the outerwear.
Timeless designs and technical expertise:
Some of our iconic designs were created during our earyl years and have since then been expertly refined over many years of development, keeping them in line with modern trends and requirements for responsible production. These styles have been designed to stand the test of time and serve many more children after yours.
Sustainable materials and production:
We aim to have a positive impact throughout the entire value chain in contrast to more traditional production enterprises. We have clear requirements and guidelines for our suppliers with regards to wages and working conditions, and no harmful chemicals are present at any of our chosen facilities.
From spring 2021 all our products will be made from sustainable materials. The nylon and polyester we use is completely recycled, and our cotton is either GOTS certified or certified by an equivalent environmental standard.
We ourselves are GOTs certified. We chose to become certified due to internal wishes, and while our fabrics now cost more, we aim to not let any of these price increases reach you, the end consumer. Choosing sustainable should not be associated with greater cost.
Future plans:
The societal changes towards more fluent coexistence with nature, animals and others are very much in accordance with our founding principles.
We have always wanted to make a difference however possible, and we want to pass on this desire to the growing generation. To give you proof of our conviction, we are currently working on becoming B-corporation certified.
Complete sustainability may be impossible as a production firm, but we do as much as we can to implement sustainable initiatives and to compensate positively for our less green activites. We are very happy that you support us in this endeavor and hope you will accompany us for many more years to come.
Best regards
Signe Tholstrup
CEO & Founder